WARREN HENRY AUTO GROUP MAKES EMPLOYEE DEVELOPMENT A PRIORITY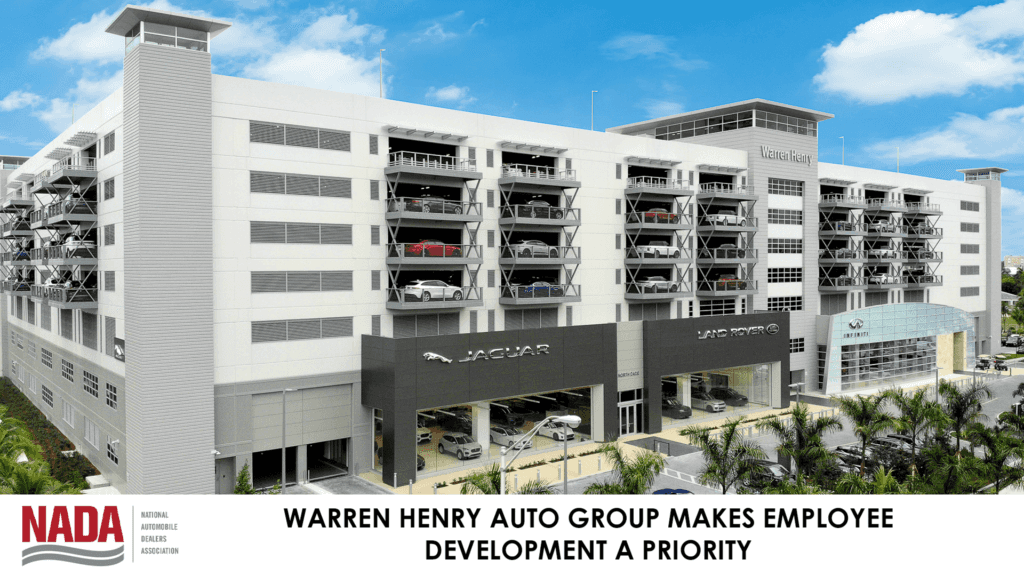 As Warren Henry Auto Group continues to expand, there are different strategies the company uses to improve the operation of its dealership locations to not only offer the best client service but to make it a better place to work. The company is focused on the development of its employees which they have demonstrated in a variety of ways.
One of the primary ways the company focuses on development is by promoting within the organization. Ismet Yagci was promoted from his initial position as a sales manager to the Business Development Center Manager at the company's corporate office in North Miami, while Leo Tarantino was promoted from being a sales associate to the manager of Lamborghini Broward, a division of Warren Henry Auto Group. In addition, Tunch Basar, the General Manager for Land Rover South Dade, moved up the ranks after starting as a sales associate. The company has also offered internal leadership and management training at a group level as another way to promote development. Mentorship programs were also created to help employees that had an interest in other skills or leadership styles so they could have access to them. Among these strategies, Warren Henry Auto Group has also given its managers the opportunity to complete NADA Academy training for dealership managers.
The National Automobile Dealers Association offers an Academy program that prepares current and future dealership leaders to operate a successful and profitable automotive business, while examining the latest in industry trends and technology. They provide training in each area of the dealerships operations so that dealership managers may attend any of the Academy classes and garner skills pertinent to their needs.
To avoid disruption of regular business operations, the academy program provides various ways to complete the training. These include six one-week classroom sessions or six-month-long live online sessions, once or twice a week, over the course of a year. The sessions are taught by industry experts, with hands-on practical application in every area of the dealership. In this process you will develop an end-to-end view of business and dealership operations. Individual employee development has been a priority of the Warren Henry Auto Group organization and encouraging their managers to complete the NADA training is an important part of their development journey.
The NADA academy program includes training in Financial Management, Parts Management, Service Management, Vehicle Inventory and Marketing Management, Vehicle Sales, and Associate Management as well as Business Leadership.
Warren Henry Auto Group makes it a priority to have their managers complete the NADA training because it equips the leadership of the company with the necessary skills to have more effective day- to-day operation of the business. Some of the company's general managers in addition to their business development and finance managers have completed the training and they also have two managers currently enrolled in the academy. While the program is costly, the company covers the cost for each employee.
Tunch Basar, The General Manager of Land Rover South Dade, explained that "The NADA training helped me better understand how the business really works, the financial aspect became even clearer, and I was better equipped to manage Land Rover South Dade more efficiently."
Leo Tarantino, Lamborghini Broward's Manager, also said, "Going to the Academy gave me knowledge about dealership operations that would take years for me to gain through working at the dealership. I recommend that all managers do this training."
The NADA academy program not only prepares managers for the daily operations of the business, but it also gives them tips on how to properly deal with manufacturers. While they gain much knowledge-based benefits throughout the program, the academy also helps them foster relationships. The managers explained that during their time at the NADA academy they were given the opportunity to make lifelong connections with other managers who they can rely on and help them perform better at their dealership.
Warren Henry Auto Group is focused on their employees just as much as their clients. It is of maximum importance that their managers are equipped with all the right tools to ensure a smooth operation of their dealership locations. The company will continue to allow its managers to receive this training at no cost to them.