AUDI GAINESVILLE RECEIVES CARGURUS 2022 TOP-RATED DEALER AWARD FOR EXCELLENCE IN CUSTOMER EXPERIENCE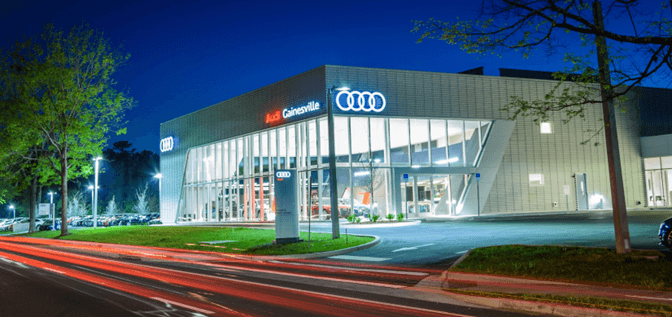 Gainesville, FL – May 24, 2022 – Audi Gainesville, a division of Warren Henry Auto Group today announced that it has received the honor of being named a 2022 CarGurus Top-Rated Dealer. The prestigious annual award celebrates car dealerships that consistently deliver exceptional customer service to car shoppers. In earning the Top-Rated Dealer award, Audi Gainesville maintained a 4.5-star average rating or higher and collected at least five verified customer reviews through the CarGurus platform in 2021.
"CarGurus knows that trust and transparency are central to car buying, and we are proud to recognize the dealerships that reflect these values with our eighth annual Top-Rated Dealer awards," said Spencer Scott, Executive Vice President at CarGurus. "The winners are among the best of the best, and the Top-Rated Dealer program gives dealerships like Audi Gainesville the opportunity to showcase their outstanding customer service. We applaud them for maintaining their high standards, especially while navigating the ups and downs of inventory levels last year."
At Audi Gainesville, we are proud to be a family-oriented company and we are committed to treating customers and employees like family. "Providing excellent customer service is our top priority, and we are thrilled to be recognized as a CarGurus Top-Rated Dealer in 2022," said Thomas Brinkmann, General Manager. "We're committed to maintaining and developing trusted relationships, and we will strive to provide this same level of excellence for years."
CarGurus invites shoppers to review and rate dealerships with whom they have interacted during their car shopping experience on the CarGurus platform. Dealer ratings and reviews are visible to the public on the site, and they are also factored in the algorithm that CarGurus uses to rank search results for shoppers.
Regarding Warren Henry Auto Group
Warren Henry Auto Group, founded in 1976, is one of the most longstanding automotive dealerships in Florida. Their reputation based on quality, community support, and appreciation towards their employees. Warren Henry Auto Group carries a variety of vehicle brands such as Jaguar, Land Rover, INFINITI, Audi, Lamborghini, Bugatti, Koenigsegg, Hennessey, Toyota, Ford, Lincoln, Chrysler, Dodge, Jeep, and RAM. Warren Henry Auto Group's corporate office is now located at 2300 NE 151st Street in North Miami. For more information, call (305) 690-6006 or visit www.warrenhenryauto.com.
###