Ford Tire Center Key West FL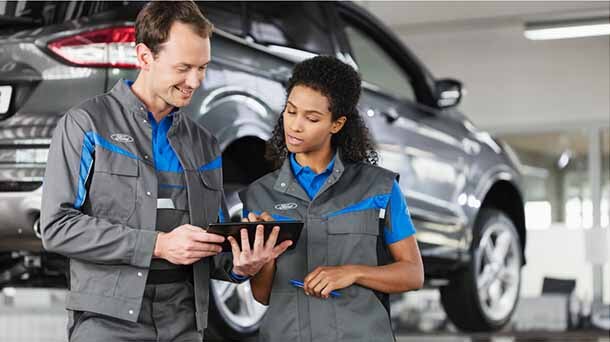 Ford Tire Center Key West FL
Ford Tire Sevice Center Near Me
Vehicles are immensely complex machines with many components, all working together to help you get to where you need to be safe. Off all the features of your car, the tires are the only parts in contact with the ground, and they're what move you. Tires also rank among the most crucial to your safety, whether on highways or a curvy backroad. When they need replacing, it can seem intimidating with dozens of types on the wall and a computer with a database of even more choices. Warren Harry Ford Service Center will walk you through the basics of tires and help you understand these circles of rubber that keep you on the road. We'll provide all the basics, including all the types of tires available and what to look for to ensure you get the most out of your tires.
How to Check Your Tire Pressure
The correct tire pressure is significant for getting good gas mileage and the most life out of your tires. Your Ford has a recommended tire pressure that will give your vehicle the best gas mileage, handling, and tire life. You can find the correct tire pressure in the owner's manual or on the vehicle's door. For the most accurate reading, make sure the car has been sitting overnight or at least has been parked for a few hours.
What Is The Correct Tread Depth For My Car
We all know what it's like to drive in a Flordia Thunderstorm that gets amplified when the treads of your tires are low. The tire tread depth gauge measures 32nds of an inch. Good tire tread depth will be 6/32 or deeper. If the depth is 4/32, you should start thinking of replacing your tires and getting new ones. 2/32 or less means that you should change your tires ASAP. The amount of tire tread can affect your stopping distance, making a drive in wet or snowy conditions more dangerous. Checking your tire tread depth is simple all you need is a penny. Insert a penny with Lincoln's head upside down into a tire tread groove. Your tread depth is good if Lincoln's head is covered and no longer visible between the grooves. If you can see all of Lincoln's face, it means that the tire tread is 2/32 inches deep or less, and it's time to replace them. However, if you are not comfortable checking your tread depth, one of the factory-trained technicians at Warren Henry Ford would be happy to help.
Is It Important To Have the Correct Tire Size on My Car
The proper size and tire will provide your Ford vehicle with the best traction and performance. You can look in your vehicle owner's manual or your door to find your tire size. Usually, those elements contain all the information related to your tire size and specifications and the appropriate tire pressure. See the "Find your tire size on your tire" tab for a complete description of the numbers and letters. Key West Ford offers a full line‐up of tires for 16+ quality name brands, including the replacement tires that fit your car, truck, or SUV, all designed to make the most of your vehicle's performance, saving you time and money. Locate the best tires for your Ford from brands like Goodyear, Dunlop, Michelin, BFGoodrich, and many others with our new Tire Finder. In addition, we offer the Low Price Tire Guarantee.
Why choose Key West Ford for your tire needs?
The factory‐trained service technicians at Key West Ford know your vehicle best and are ready to help you find the best tires for your specific model at the best price possible. We also proudly offer a full‐service maintenance and repair facility, along with parts and labor warranties. Key West Ford understands that your life is busy, so we offer many convenient features to help ease the stress. Features such as clean, comfortable waiting areas with free Wi‐Fi. For those customers that need to get back to work, we offer a shuttle service to and from your home.