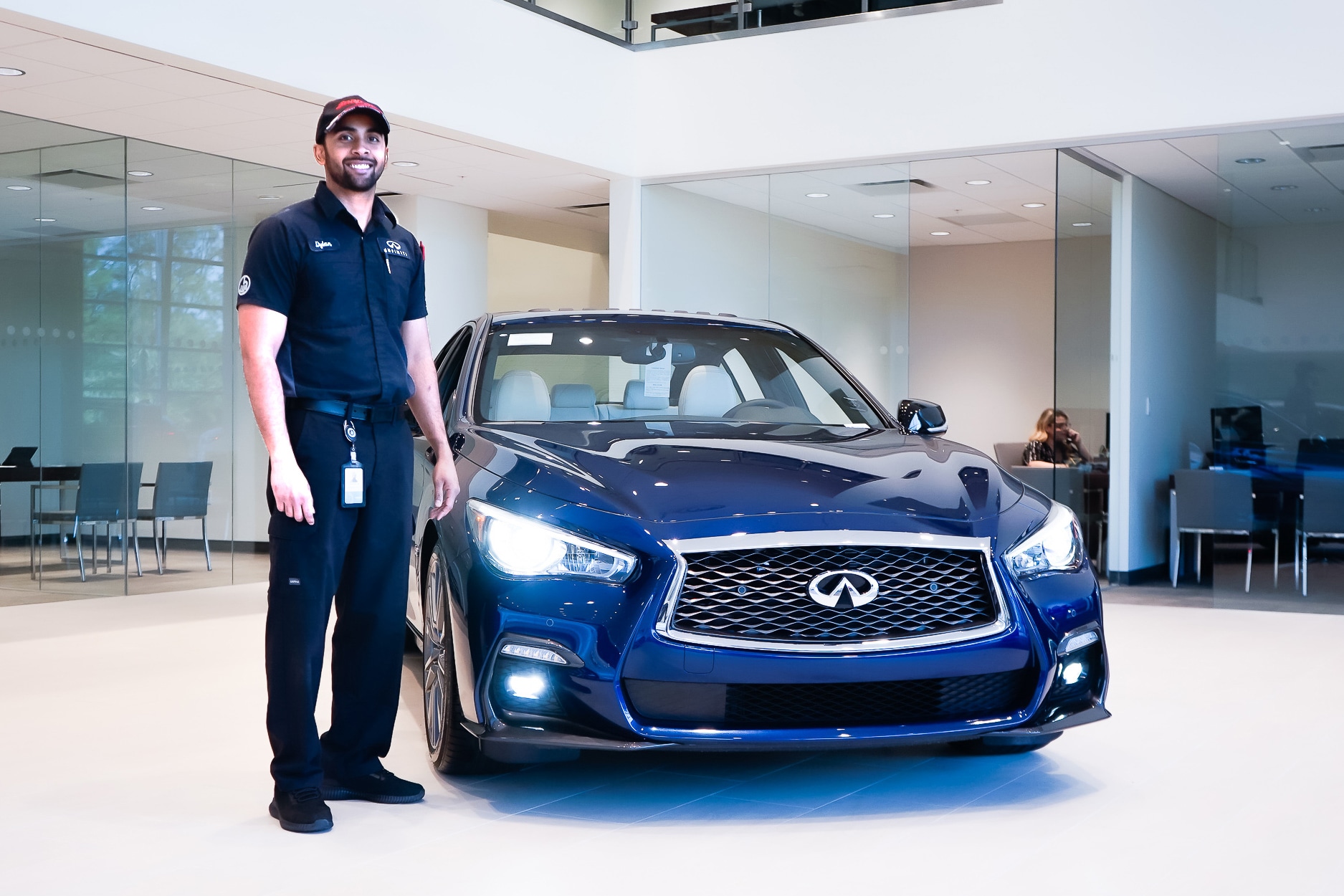 Dylan has been working for Warren Henry Auto Group for more than seven years and we have seen his growth within the company from an express technician to a Master technician, both ASC & INFINITI master as well as shop team leader for the INFINITI service department. Also, as a big Japanese car fan, Daylan loves working on Nissans and INFINITI'S but especially the Q70. Here at Warren Henry Auto Group, we are very happy he is part of our family and we can't wait to see his professional success!
Q.
How did your interest in the industry start?
A.
Growing up I always had a passion for cars, a lot of my family, my cousins are into cars, sports cars that type of stuff. Personally, my father and direct household was never a mechanic or anything like that or even into cars. It was my extended family that got me into it. Then as a teenager I got my first car and started doing stuff to it, working on it, learning myself since I didn't have anyone to teach me before I made the decision to go to trade school to learn.
Q.
How did you end up at Warren Henry Auto Group?
A.
Right after I graduated from Universal Technical Institute in 2012. I was in Orlando, FL and I wanted to move back down to South Florida so I was looking for jobs in various dealerships Nissan/INFINITI preferred because I was in a program. This was one of the dealership I basically walked in and handed my application, within 3 weeks after I graduated I received a call back from the service manager for an interview.
Q.
How long have you been with Warren Henry Auto Group?
A.
July will be eight years.
Q.
What position did you start with?
A.
I started off as an express technician and now I am master technician, both ASC & INFINITI master as well as shops team leader for the INFINITI service department.
Q.
What are your responsibilities?
A.
Not only to perform my level work & diagnose & repair vehicles but also to assist our service manager, foremen with test driving vehicle and quality control, along with assisting other technicians diagnosing other vehicles. I talk to customers get to know what their issues are with certain cars. I also help regulate some of the work in & out of the shop.
Q.
What is your favorite car/model to work on & why?
A.
Q70's. Because it is a nice car pertaining to it being a big size vehicle but still has a lot of power. To me it is very comfortable, and offers a lot of luxury & technology.
Q.
When working on these car, what gives you the most joy?
A.
I really like working on Japanese cars, I'm a big Japanese car fan, specialty with Nissan, working on them is fun because even though they are the same inside and out we do encounter new different problems everyday, it's never going to be the same thing every day and it creates a challenge and gets your brain really working to where you can actually use your critical thinking skills and your creativity to solve problems. Sometimes these cars are super easy to fix something times it gets really tricky, but as you get better and learn it's always a challenge and that's what keeps it interesting.
Q.
Where do you see yourself next year?
A.
I definitely see myself transitioning into more of a higher management level. I've gotten to recognize a lot of skills I've had being a master technician for five years and helping run the shop. I've gained a lot of leadership experience and a lot of skills that I know that I can grow on and improve and become even more effective and much more of a difference maker in this company.
Q.
If you were to recommend anything to anyone that wants to start a career in automotive what would it be?
A.
GIVE IT A GO. You can't really lose here. Working with this company the environment is great, the pay is very competitive compared to other degrees or other skills in the fields out there right now there aren't many that can match up to this in a few years as long as you are continually working hard, learning and progressing.
Q.
What is your favorite part of the building?
A.
AC. I think the pride and joy of this facility is the shops. There is a lot of technology, there's certainly a lot of money in here, but by just the way it looks the way its presented, it's an awesome token to show our customers but also for us. It's a lot more enjoyable, we have AC, we're comfortable, space its clean, brand new tool boxes all the equipment is brand new. You couldn't ask for anything better with this day n' age. This is like working in a luxury atmosphere truly as far as a technician is concerned.
Q.
What do you like to do on your down time?
A.
I do like to travel, work on my personal car that I take out to shows and events, stuff like that and spend time with family.
Q.
What's the first thing you do when you get out of work?
A.
Now I've been going to school. I take night classes. The nights where I don't have school I like to unwind relax, if there's football on, I'll watch football. I have an office at my house, I'm always doing something in the office. I like finance stuff and I like to check how the economy is doing, I'm weird like that. I'll hit Xbox once in a blue moon, I barely touch my games nowadays but I try to find time to relax and unwind for a little bit.
Q.
What do you look forward to the most?
A.
Getting up every day and bringing the best I can bring to whatever it is that I am doing whether it's me working here on an off day, whatever it is. I just want to better than I was yesterday.