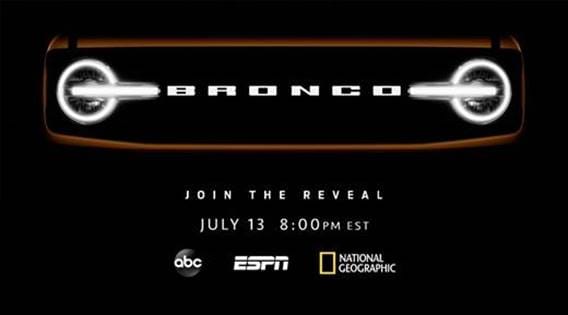 North Miami, FL (July 8th, 2020)
- Warren Henry Auto Group is very excited to announce the release of the all-new Ford Bronco 4x4 family on Monday, July 13th. The announcement is going to be made across Disney's Media Networks – marking the first-ever, prime-time product reveals roadblock across Disney's broadcast, cable, digital, and streaming properties.
"Ford Bronco is an icon that has captured people's imaginations and inspired them to explore the most remote corners of America and the world since the 1960s," said Jim Farley, Ford's chief operating officer. "As a new era for Bronco begins, we're proud to tap the strengths of epic adventurers like Jimmy Chin and Disney storytellers to help bring Bronco to life and inspire millions of people to get out into the wild." Rita Ferro, president, Disney Advertising Sales stated: "With Ford, we're re-imagining what a product reveal can look like by drawing upon our best-in-class sports, entertainment and streaming brands to bring the new Bronco family to live in a way that honors its heritage and gives viewers an unforgettable experience."
Stay tuned as Key West Ford will share additional content with Ford fans on its YouTube, Facebook, and Instagram channels starting July 13th, including additional details on the performance strengths of each new Bronco model. You can also reserve yours starting Monday, July 13th visiting our website
www.keywestfordfl.com
or
www.keysautocenter.com
. Until the July 13th reveal, Ford Bronco fans can follow Bronco's latest news and the countdown to reveal with The Keys Auto Center or Key West Ford on Instagram.
About Warren Henry Auto Group
Warren Henry Auto Group, founded in 1976, is one of the most longstanding automotive dealership in Florida. Their reputation is based on quality, community support and appreciation towards their employees. Warren Henry Auto Group carries a variety of vehicle brands such as Jaguar, Land Rover, Infiniti, Audi, Lamborghini, Bugatti, Koenigsegg, Toyota, Ford, Chrysler, Dodge, Jeep and RAM. Warren Henry Auto Group's corporate office is now located at 2300 NE 151st Street in North Miami. For more information, call (305) 690-6006 or visit
www.warrenhenryauto.com
.
###