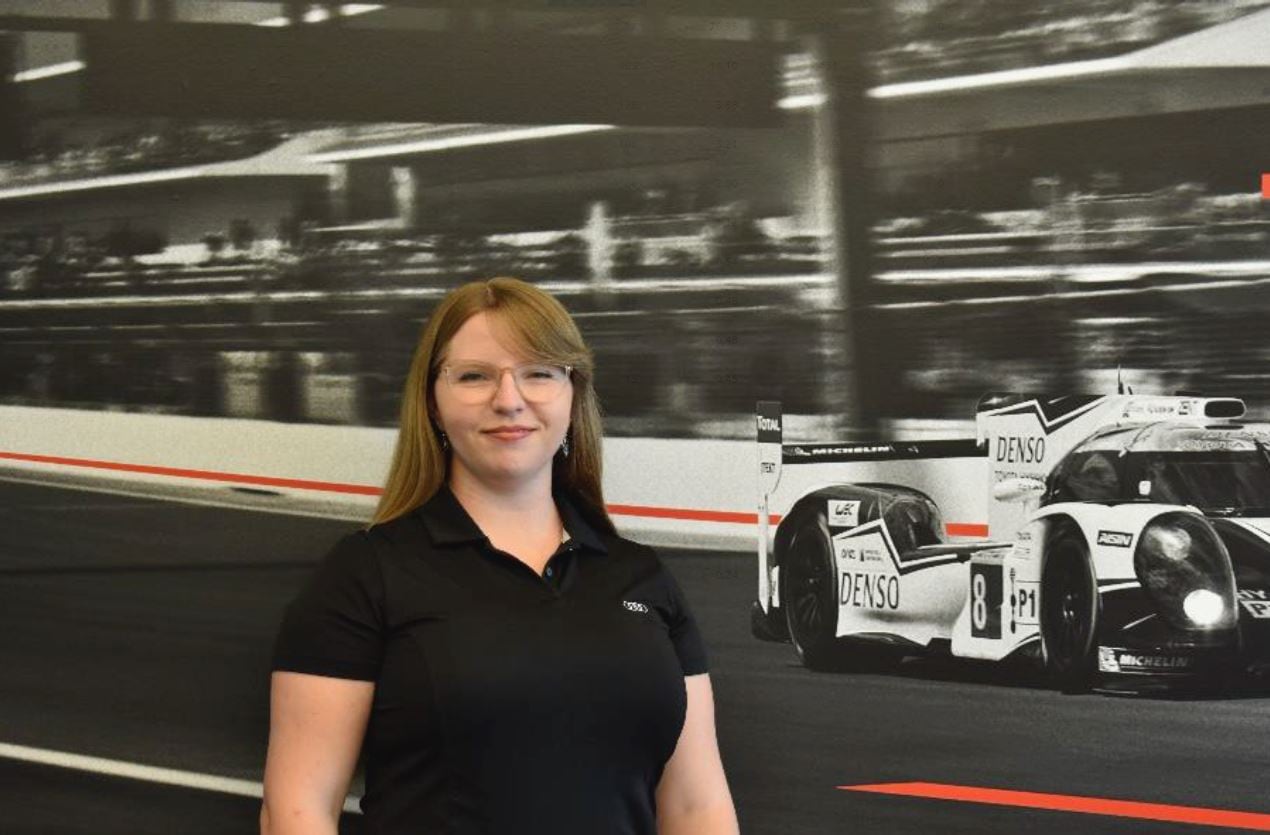 Gainesville, FL – September 10th, 2019 -
Audi Gainesville
is not only superior in customer satisfaction, but is also recognized as one of the most outstanding Audi retailers in the U.S; according to their recent win in the 2018 Magna Society Award. We are proud to be cheering on one of our own in the Twin Cup World Championship in Europe.
Devin Davis (pictured above) is in a race to be included in the Audi USA dealer body team at the Twin Cup World Championship in Europe! Devin is currently on her way to the National Finals. If she wins; she will continue her hot pursuit to Germany for the world championship!
The annual Twin Cup Challenge is a global program that has operated in various formats and forms over the last 30 years and provides an opportunity for Technicians, Shop Foremen, and servicer Consultants to put their skill to the test and engage in a friendly competition with their peers from across the country. After two initial rounds, you would then advance into the National Finals. The winner from the finals will then compose team USA which will then compete in the Twin Cup World Championship in Europe.
"We want to wish Devin good luck and let her know the Audi Gainesville team has faith that she will succeed in the final round. Audi Gainesville is a young store that has been in business for less than 3 years! It's more than encouraging and exciting to know that we're up against some of the bigger stores around the world. Her hard work and dedication haven't gone unnoticed and Audi Gainesville is cheering her on for the long-run. Go, Devin!" Said Thomas Brinkman, General Manager of Audi Gainesville.
About Audi Gainesville, a division of Warren Henry Auto Group
Over four decades and three generations, Warren Henry Auto Group has built an esteemed reputation through its commitment to service excellence, superior quality, Advantage products, and unwavering community support. Warren Henry Auto Group includes a diverse portfolio of vehicle brands including Jaguar, Land Rover, Infiniti, Audi, Lamborghini, Bugatti, Koenigsegg, Toyota, Ford, Chrysler, Dodge, Jeep, and RAM. Warren Henry Auto Group's corporate office is located at 20860 NW 2nd Avenue (Hwy. 441) in Miami and will be relocating to North Miami's SoLe Mia development in mid-2019. For more information, call (305)690-6006 or visit
www.warrenhenryauto.com
.